EDDIE THE EAGLE: Prepare, engage, release.
We are in the pursuit of inspiration... and then, all of a sudden, "Eddie the Eagle" slides in with a powerful premise that is worth to embrace. A film that not only entertains but also uplifts audiences with subtle humor, acting charm and a fine execution.
This is my short 5-minute conversation with stars Taron Egerton ("Kingsman: The Secret Service", "Legend"), Hugh Jackman ("XMen" films, "Les Misérables") and British actor Dexter Fletcher ("Lock, Stock and Two Smocking Barrels", "Kick Ass", "Topsy Turvy") in charge of direction and delivering the goods behind the camera.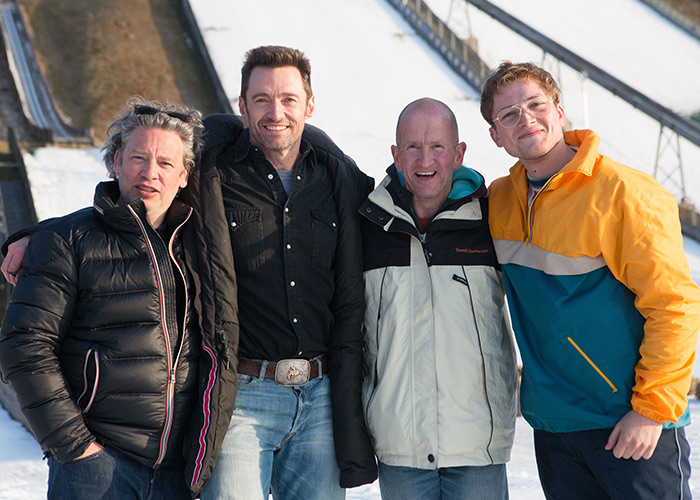 MMVox: When you have a subject with such significance, how is your approach to the character and the story?
Taron Egerton: Personally for me, I think because he was a real person, and he is still very much alive and kicking, alive and jumping, you want to do justice to them and you want it to be something that they appreciate and enjoy even though inevitably, with a story like this, you take licenses with things to make it dramatic in the way you need it to be for an audience; and of course there's a strong comedic vein for the movie and that shift things, but there's a pressure that comes with wanting to do justice to the story.
Dexter Fletcher: Absolutely, and treating that person with that respect because they have no answer for it. All he can do is watch the movie like the rest of us. He helped us with the research and the development, but we go away and make the film and he has to trust us. There's a certain amount of responsibility; and we were aware of [it] when we made the film; that was certainly important for us.
Hugh Jackman: I think people underestimate Eddie. I sort of did. I knew him and I remember watching him; I kind of thought he was sort of a prankster and we kind of loved him for it, but when you watch the movie you realize what he had to overcome as a child and also just going to those Olympics, he took it very seriously. And on the outside he seems like he is having fun but he really cared about it and he is still jumping until this day.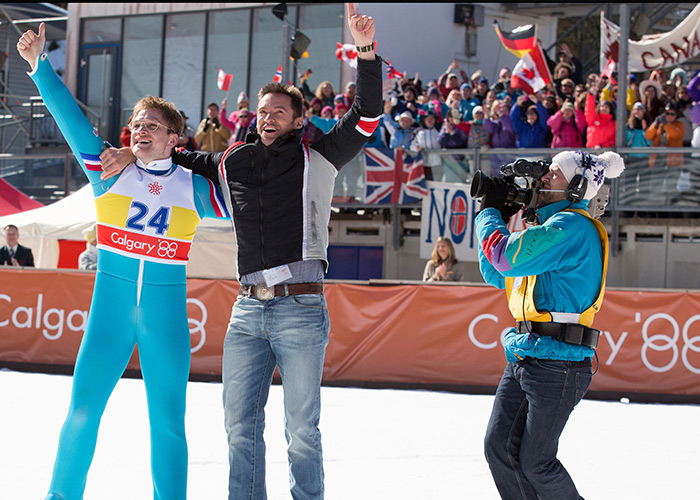 Michael Edwards became the first ski jumping athlete to represent Great Britain at the Winter Olympics in Calgary, 1988. But before that he was a downhill skier who couldn't qualify for the 1984 games. He decided to switch to ski jumping in order to have a chance to be part of the Olympics. Eddie did not have the required dexterity and was severely long-sighted, but he had a strong desire to be an Olympian. He was an "underdog" and failed many times, but he believed in himself and persevered…
Perhaps some 95 minutes of the film are pure fiction, with just 10% of the story based on true events. But only by taking the premise of Eddie's accomplishments, the creators have crafted a film that is overwhelming and generates a "feel good" sensation that stays with you when the lights turn on at the movie theater. That is something pretty simple, but a lot of films fail to do that.
MMVox: Seems like the worse he performed the more the press acclaimed him. Was it hard to make him that charming and likeable?
Dexter Fletcher: No because he has talent (referring to Taron Egerton).
You answer this…
Taron Egerton: That is a lovely thing to say, by the way.
Hugh Jackman: He got all of that in him; he is a brilliant actor but it is a very difficult thing to pull off. Because he is very funny, at times a little goofy, it can easily got over into a caricature and he never does is astonishing and I remember I kept saying to Dexter… really from the moment I was there I can't remember you making a second take. He just inhabited him and it was very inspiring.
Dexter Fletcher: It is a very fine line for any actor to walk; he is a larger than life character really and the way that Taron portrays him, he just hold back on that, and that is a brave thing to be able to do, but similarly there are some real things and the real importance between Perry and Eddie is about their friendship and they certainly require a very different caliber and a very different kind of acting from the more exuberant stuff and what it was a real blessing for me as a director in a film with these actors is that they both have these gears where they can keep it real to the character but completely change gear and bring the audience into the relationship and the closeness between these 2 people. It is so important.
Fletcher cleverly casted a very special duo: a young British actor that is building a strong career; and an adorable, kind and established name like Hugh Jackman; someone with a versatility and professionalism that has enchanted viewers and journalists alike (myself included, obviously).
Despite being a completely fictional character, the journey of Bronson Perry (Hugh Jackman) is as powerful as that of Eddie's. Jackman not only embodies a trainer who becomes an inspiring and transcendent presence; he is also able to impulse himself through the noble act of redemption.
MMVox: The inspiration does not only come from Eddie but also from Bronson and how they nourish each other. How do you describe the journey that your characters go through and the symbiotic relationship between the coach and apprentice?
Hugh Jackman: I think he was sort of pretty disengaged, pretty cynical, pretty dock about life and sort of carrying on as an outsider and justifying: that was fine, that is his life and sort of not worrying about anybody else and he meets Eddie and Eddie's innocence and enthusiasm and also his honesty kind of sort of wakes him up and makes him realize he has much more to offer. And I think the movie itself is not cynical; either is positive and leaves you feeling that way. Bronson is one of the many people affected by Taron's character Eddie, who just reminds you: go off for your dreams, it is okay. You don't need to be the best in the world; you can be the worst and still achieve your dreams.
MMVox: As actors and filmmakers you understand your audience… What do you think people should/would expect from "Eddie the Eagle"?
Taron: I actually hope that it surprises people a lot when they go and see it, because I think it is quite hard to quantify and package up what it is because in one hand is quite a simple story about two guys who kind of start each other out really but there's also this kind of quite of spectacular epic somersault in the middle of the sky jumping and the sporting event. I hope that people can expect to be uplifted leaving the theater with the springiness and to feel kind charm of and invigorated. That's how I felt when I first watched.
Dexter Fletcher: I couldn't put it better. That is what we wanted to achieve: a great piece of entertainment that make people feel invigorated and good when people come out.
And it is certainly achieved. "Eddie the Eagle" is engaging for all audiences; it reminds us that at any stage of our lives the impossible is achievable. Go and slide with "Eddie the Eagle".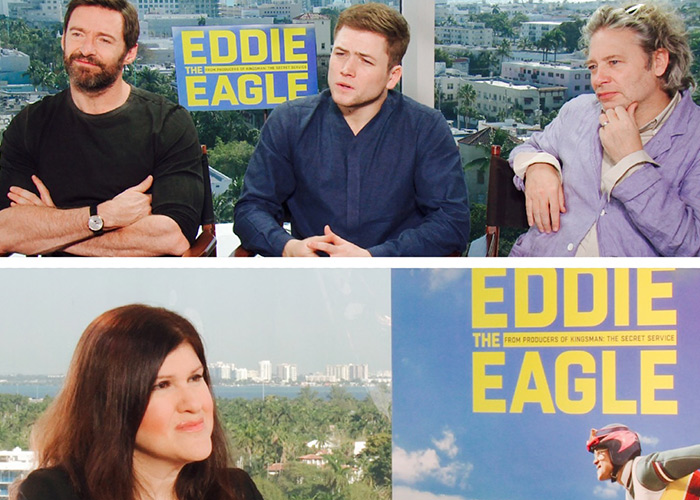 From my interview at Juvia, South Beach on February 18th, 2016.
Special thanks to Craig Evans, Maria Salas & my editors: Carlos Monserrate & Elio Casale.